Thermal FAQ's
Thermal FAQ's
Shipping
Q. How long does it take to dispatch a wristband order?
A. Most orders are dispatched the same working day whether custom printed or plain.
Q. What is the cut off time for same day dispatch?
A. 3:00pm. Our post is collected between 4:00pm - 4:30pm so orders received after 3.00pm may be shipped the same working day.
Q. What are the shipping options?
A. As standard, we ship Royal Mail 1st Class. You are able to select next day delivery options at checkout.
Q. Is there an option for Saturday delivery?
A. Yes, this can be selected at checkout.
Q. What is the cost of next day special delivery?
A.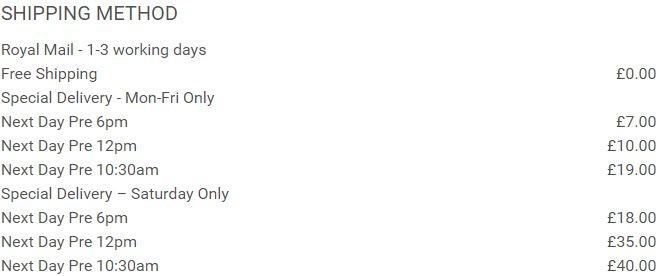 Q. Can I request a collection in person?
A. Yes, please call us or leave a note at checkout advising when you would like to collect your completed order (business hours only).
Q. Who will deliver my item?
A. We mainly use Royal Mail & DPD, but we may choose to use a different delivery agent depending on the service selected at check out and your geographical location.
Q. How long will it take for my item to arrive?
A. This depends on the delivery option selected at checkout. 1St class post typically arrives in 1-3 working days.
Q. Will someone need to be in to sign for my wristbands order?
A. Yes, if your order is over £30.00. The dispatch team may upgrade your delivery option without notice. Upgrades are at no extra charge to you. We recommend you request delivery to a location where a delivery signature can be provided.
Q. What happens if I'm not in to sign for my order?
A. Please follow the delivery agent's instructions left on their 'sorry we missed you' calling card.
Q. Can my item be left with a neighbour or in safe place?
A. As standard this isn't something we allow you to request during the checkout process. But the chosen delivery agent may choose to leave your parcel in a safe place or with a neighbour.
Q. Do I receive a tracking number?
A. This depends on the service selected. Tracking details are provided within your dispatch email.
Q. How are my wristbands packed?
A. All wristband orders are packed in waterproof packaging.
Q. Do UK Wristbands ship worldwide?
A. Yes, we can ship anywhere. Please note that outside the EU, customs clearance and charges may apply. Shipping estimates to non UK and EU countries are to the boarder or customs clearance location only.
Printing
Q. Do you print in colour?
A. No, the print process only allows black text and logos only.
Q. Does the background wristband colour effect colour print.
A. No, as the image is burn on to the wristband it will not affect the black print.
Q. What is the printable area?
A.

Q. How much of the wristband is seen once worn on a wrist?
A.

Please note this is a rough guide only. Wristbands visibility once on the wrist is subject to the size of a person's wrist.
Q. Can I have edge to edge or bleed off Thermal wristbands?
A. Sorry, this is not a service we offer.
Q. Can I print numbering and/or barcodes on Thermal wristbands?
A. Yes, please contact us to discuss your requirements.
Q. Is this wristbands suitable for children?
A. Due to the popper studs, the length of the wristband can be suitable for any size wrist.
Q. Can I have two lines of text?
A. Yes if the advanced designer option is used.
Q. Can I have multiple logos on one wristband?
A. Yes, you will either need to upload a complete print ready file or place them independently using the advanced drag and drop designer.
Q. What is the difference between basic and advanced designer?
A. The basic designer allows for simple text and logo designs and is the easiest and most used designer option. The advanced designer is slightly more complicated to use. It is a drag and drop builder for creating more complex designs.
Q. Can I see a proof?
A. As standard we provide the online screen representation as you are creating your wristband design. Once you have checked out, you have confirmed your design and we will print it as it is. You can purchase a pre-print proof but will need to contact the UK Wristbands team to discuss your needs.
Q. Can I choose more than one colour wristband to print on?
A. Yes, simply select the mixed symbol within the designer and choose the combination of colours.
Q. Can I have more than one design?
A. Yes, each design would need to be added to your shopping bag separately. Each design requires a separate set up.
Q. What is the minimum quantity of Thermal wristbands per colour or design?
A. The minimum order per design or colour is 100 wristbands.
Q. Can I have white text on Thermal wristbands?
A. We don't currently offer white print on Thermal Wristbands.
Returns
Q. Can I return plain unprinted wristbands?
A. Yes, provided the full order quantity is returned within 14 days in 'as new' saleable condition. It is your responsibility to ensure they are packaged securely for return in the correct condition.
Q. Can I return custom printed wristbands.
A. No. Regrettably we cannot offer refunds for special customised orders. Please ensure you check your design carefully before ordering.
Contact us
Postal
UK Wristbands Limited
Hargreaves Business Park
Hargreaves Road
Eastbourne
East Sussex
BN23 6QW
Phone
01323 512 740 (Print Studio)
07469 118164
Email
sales@ukwristbands.com
Opening hours
Mon, Tue, Wed, Thur (8:00 AM-8:00 PM)
Fri (8:00 AM-6:00 PM)
Sat (8:00 AM-1:00 PM)