Drink Check Wristbands
There's no harm in having fun, but a good time can turn sour if you don't protect yourself. Use of date rape drugs like GHB have increased by 108% in the last three years.
Drink Check Wristbands are a simple, wearable test to see if your drink may have been spiked.
Use our date rape drug detector wristbands on your next night out, or share them with your friends and family.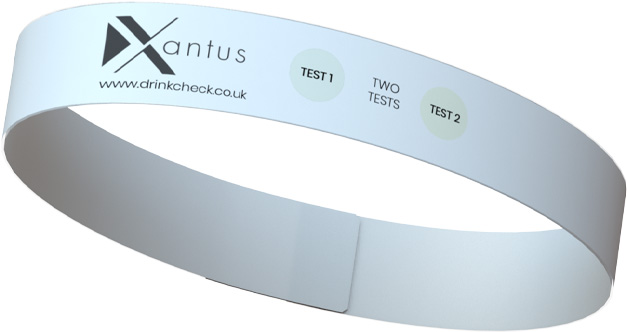 How do Drink Check Wristbands work?
Our drug detector wristbands keeps you safe on a night out, by changing colour if your drink may have been spiked. They're incredibly easy to use:
Stick a Drink Check Wristband round your wrist when you go out
Dab a small amount of the liquid from your drink onto one of the two test fields
Wait 2 minutes – if the test field turns blue, your drink has been spiked
Tear off your wristband at the end of the night
Available in packs of 4, our date rape wristbands are compatible for testing many types of soft drink, hot beverage and alcohol – including beer and wine.
Protect your customers with promotional Drink Check Wristbands
It's not just partygoers who are responsible for their own safety. As a venue or promoter, it's important to look out for your customers.
Giving away free promotional date rape wristbands has a positive impact on your reputation, showing genuine customers that you care about their wellbeing – and it can deter potential crimes.